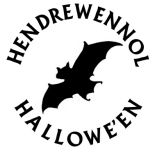 Hallowe'en at Hendrewennol

October 26th / November 1st A week-long event into Half Term, Hallowe'en @ Hendrewennol is a family friendly spooky experience by day, and a little bit scarier as dusk falls.

Open from 9.30am daily, from 26th October for Pumpkin Carving, Broomstick Factory, Web Making, Spooky Village and the Terror Trail, now alive all day with our live action artists, and turning a little bit scarier as the sun sets.

We have lots of great hot and cold food; fresh oven-fired pizzas, hotdogs and burgers to salads, soups and pies.

Please note this is a Ticket Only event, invariably sold out, so please do get tickets before you come along. There will be no tickets available on site.